Stop Valves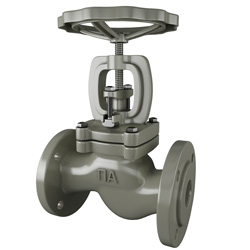 Stop valves are in widespread use throughout various industries and are probably the most common type of industrial valve. A stop valve is a device in which the shut-off or control element moves up and down parallel to the piping run. Stop valves have two operating positions: fully open and fully closed.
Stop valves are constructed of gray or malleable cast iron, steel, brass, bronze, aluminum, titanium and nonmetallic alloys. They are produced with union, flanged, welded, threaded and compression ends.
According to their design, stop valves are divided into three groups:
1. angle valves providing 90-degree change in flow direction;
2. straight-flow valves providing the same flow direction at the inlet and the outlet and at least double 90-degree change in flow direction inside the valve;
3. straight-through valves with the same flow direction at the inlet and the outlet and in which the stem is set at an angle to the piping run providing control to reduce hydraulic resistance.
Depending on the shape of the gate, stop valves fall into two groups:
1. valves with a flat gate (globe valves or plug valves);
2. valves with a conical gate (needle valves).
The advantages of the stop valves include:
- small openings necessary for disk assembly; as a rule, the gate should be lifted by ¼ of the nominal bore, while to open the gate valve the gate should be lifted by full bore;
- lesser height when comparing with a gate valve of the same nominal diameter;
- optional bellows sealing to protect the inner parts from the ambient environment.
Stop valves have the following disadvantages:
- higher hydraulic resistance in comparison to gate valves limits the application of larger diameter valves;
- presence of stagnant pockets that trap solids causes valve body corrosion.
Generally, stop valves are operated manually. On request, they can be fitted with electric, pneumatic, solenoid and diaphragm actuators.
PromArm supplies stop valves produced in accordance with Russian Federal Standard, ISO, DIN, ANSI.