Safety Valves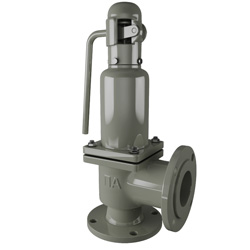 Safety valves are industrial valves intended for protection of pipelines and piping equipment from pressure increases beyond set limits by means of automatic release of a portion of the media out of the protected system thereby lowering the pressure to safe limits.
Safety valves are used for both liquid media and gases.
The operation principle for safety valves can be described using the example of direct acting spring safety valves. Under operating pressure, the valve is hermetically sealed because the spring forces the spool onto the seat. As the inlet pressure increases above the setpoint, the reversed force starts to affect the spool, the spring compresses and the valve opens. When the pressure drops below reset limits, the spool is pressed to the seat again, and substance release ceases.
Safety valves differ according to the following characteristics:
1. Operation principle
a. direct acting valves are activated by the system pressure;
b. indirect acting valves are controlled by an external source of pressure or electric energy;
2. Shut-off device lifting pattern
a. in proportional valves, the disk is lifted above the seat depending on the system pressure (proportional valves are used mostly for liquid media);
b. two-position valves are full opening;
3. Shut-off device lift height
a. low-lift valves (lift height not more than 0.05 of seat diameter);
b. medium-lift valves (lift height 0.05-0.25 of seat diameter);
c. full-lift valves (lift height 0.25 of seat diameter and more);
4. Mode of load application
a. in spring-loaded valves, spring pressure opposes the force provided by the system pressure. These spring-loaded valves can be adjusted for different actuating pressures by choice of a suitable spring;
b. in weight-loaded valves, the force opposing the system pressure is created by the weight on the stem; they can be adjusted to the required pressure by means of selection of the proper weight loaded on the lever arm;
c. solenoid spring valves include a solenoid operator that provides forced opening of the valve or additional pressure for the trim.
A number of safety valves include a hand lever, which is used as an operational check to release a portion of media manually.
PromArm supplies safety valves for power, oil and gas, chemical industries and cryogenic systems. The valves are available in a wide range of materials: stainless and carbon steel WCB, AISI304, AISI316, CF8M, cast iron GG25/GGG40, brass and bronze. They can be constructed with different types of end connection: flanged (in accordance with ANSI/DIN requirements), threaded (in accordance with NPT/BSP/ISO requirements) and welded end.