Solenoid Valves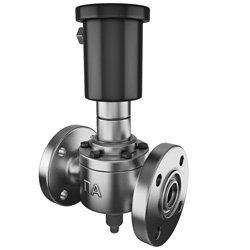 Solenoid valves are a type of industrial valve intended for remote control and/or full opening or closing of flowpath in different pipeline systems.
Solenoid valves consist of two main parts:
1. solenoid / magnetic coil;
2. valve body in which a blocking element is installed to open and close the flow path.
There are two different versions for the design of solenoid valves: normally open and normally closed. When the coil is energized, a normally closed valve opens allowing fluid to flow, and a normally open valve closes, shutting it off the fluid flow.
Solenoid valves are operated as follows: voltage is supplied to an induction coil, and the solenoid core is either pulled into or pops out of the solenoid (depending on design) thus opening or closing the orifice. Voltage supply differs from 12 to 380 V, direct or alternating current.
According to functions performed, solenoid valves fall into isolation and control valves. The former are meant for quickest pipeline shut-off in case of emergency. The latter allow changing the flowpath, mixing or distributing fluid flows.
According to design features, solenoid valves can be divided into two groups:
1. in direct acting valves, the trim is rigidly connected to the core and moves unaided by the operating medium when voltage is supplied to the coil;
2. in indirect acting valves, the voltage supply allows the pilot valve to open, and the solenoid valve opens due to system pressure.
Solenoid valves may include manual override for forced valve closure or opening in case of magnetic coil breakdown.
Such valves have the following advantages over other types of industrial valves:
1. short operation time;
2. low weight and sizes;
3. high duty cycle;
4. explosion-proof design producibility.
Solenoid valves are applied in a variety of industries including the food, gas, chemical, and power industry and also in water, heat and gas supply, air conditioning and air ventilation systems.
PromArm supplies solenoid valves produced in accordance with both Russian and international requirements concerning electrical specifications (50/60 hz, 12–380 V), EX-rating (explosion protection meets the requirements of GOST and ATEX), and dust- and damp-proof (IP protection degree).
Choose element
from list or enter keyword
| | | |
| --- | --- | --- |
| DN15, PN16 | DN25, PN16 | DN20, PN16 |
| DN25, PN16 | DN50, PN16 | DN32, PN16 |
| DN25, PN40 | DN32, PN16 | DN40, PN40 |
| DN15, PN160 | DN15, PN16 | DN32, PN16 |
| DN15, PN16 | DN32, PN16 | DN20, PN16 |
| DN32, PN40 | DN40, PN16 | DN20, PN40 |
| DN40, PN16 | DN40, PN16 | DN20, PN16 |
| DN25, PN16 | DN25, PN16 | DN50, PN16 |
| DN15, PN160 | DN32, PN16 | DN15, PN40 |
| DN40, PN16 | DN20, PN160 | DN15, PN63 |
| DN10, PN250 | DN80, PN16 | DN20, PN250 |
| DN15, PN10 | DN10, PN6 | DN10, PN373 |
| DN20, PN373 | DN25, PN160 | DN10, PN400 |
| DN15, PN23 | DN20, PN160 | DN15, PN16 |
| DN50, PN40 | DN50, PN40 | DN50, PN16 |
| DN50, PN16 | DN25, PN16 | DN80, PN40 |
| DN80, PN40 | DN32, PN16 | DN40, PN40 |