Control Valves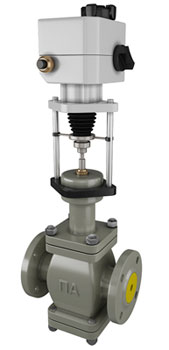 Control valves are industrial valves specifically designed to control liquid media and gases transmitted through a pipeline.
The operation principle of control valves is based on the need for a permanent change of flowpath by way of changing the size of the orifice of the valve. Control valves can be operated manually, by means of a pneumatic single-piston actuator, electrically, by a solenoid or a diaphragm actuator.
In most cases, control valves tend to leak even when fully closed. This occurs due to the peculiar design features of these valves. Manufacturing methods and techniques help to minimize the leakage to acceptable levels. In this case, the valve is referred to as a "shutoff" control valve.
Control valves are applied in a variety of environments: water and heat supply systems, oil and gas pipelines, the chemical industry, combined heat and power stations, hydroelectric power stations and nuclear power stations, etc.
The main structural components of a control valve are 1) body, 2) trim and 3) actuator. The trim controls fluid flow. Trims have different designs and they are selected according to control process requirements and operating medium characteristics.
Taking into account that control valves are often installed in pipelines with aggressive and abrasive media, high pressure and high temperature conditions and under conditions of cavitation, the trim sees heavy use and wears out relatively quickly. Many manufacturers produce control valves with trims constructed as separate units. This design strategy has a number of advantages:
- the capability to repair or replace the trim without valve removal makes trim assembly, fitting and finishing in the course of control valve installation or repair less labor-intensive;
- the trim can be made of different materials than other body parts, thus providing better corrosion and erosion resistance;
- for various operating media and working conditions, different trims can be installed into a typical control valve body.
PromArm supplies control valves manufactured in accordance with Russian and international quality standards: GOST, API, ANSI, DIN.