Valves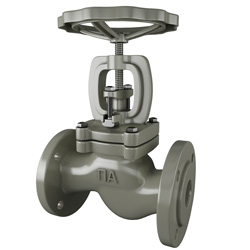 Valves are probably the most widely used and have the most diverse construction types of all pipeline accessories. They are applied in various branches of industry from household use to space industry.
Purpose of Valves
According to their purpose, valves can be divided into six categories:
1. stop valves — intended for complete pipeline shut-down;
2. safety valves — used for automatic protection of pipelines and their elements from pressure surges in operating media beyond set limits;
3. check valves — designed to stop fluid flow and to protect pipeline elements against changes in the flow direction of the media;
4. control valves — used to control fluid flow by changing the flow area of the throttling orifice;
5. diverter valves — intended to facilitate the distribution of fluid flow into two or more pipelines serviced;
6. mixing valves — used to mix operating media in set proportions.
Valve Construction
Depending on operating conditions and necessary working parameters such as operating media, temperature, pressure, end connection, etc., valves can be constructed of steel using steel grades such as 20, WCB, LLC, CF8, CF8M, CF3, Super Duplex, Alloy, Hastelloy, cast iron (grades GG25, GGG40), nonferrous alloys, titanium and nonmetal materials. The nominal bore of valves can vary from 3 to 1,400 mm and they can withstand pressure from 0.1 to 200 MPa. Valves are produced with the following types of end connection: flanged (according to standards of GOST, ANSI and DIN), welded, union (with different threads in accordance with GOST, NPT, BSP, ISO, SAE) and compression ends.
Valve Control
Stop and control valves can be operated manually (by hand wheel, lever, etc.), by means of solenoid, electric, diaphragm or by piston pneumatic actuator. Check and safety valves are controlled by system pressure.
Detailed information about the different types of valves can be found in relevant sections of our website. There you can find valve descriptions, design features, their technical characteristics and main parameters.