Steel Strainers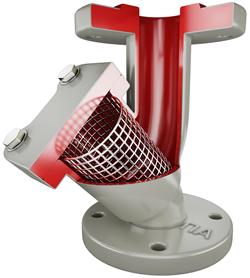 A steel strainer is a device designed to remove nonchemical solid particles from flowing fluids to protect hi-tech equipment such as pumps, and various types of measuring and control equipment. Removal efficiency of steel strainers reaches 90%.
Steel strainer construction is shown in fig. 1. It consists of the following basic parts: body (1), bonnet (2), mesh straining element (3), gasket (4).
The operation principle of steel strainers is simple. As the fluid flows through the strainer, the mesh straining element retains and collects solid particles (dirt, rush, pipe scale, etc.).
To clean the strainer you need to take off the bonnet, remove the straining element and clean the dirt out. A ball valve can be installed inside the bonnet to clean the strainer without pressure drop.
The most common list of materials used for strainer manufacture is as follows: a body made of carbon steel, mesh made of stainless steel. Stainless steel strainers are applied in aggressive media.
Steel strainers are manufactured in different diameters from 15 to 400 mm. They are designed for maximum operating temperature up to 400°C. Steel strainers are produced with flanged, union, welded and threaded end connections. End connections for steel strainers are constructed in accordance with Russian and international standards (GOST, ANSI, ISO, DIN).
Strainers are installed in a pipeline with the bonnet turned downward. The flowpath direction is indicated by the arrow on the body. Strainers can be installed in vertical lines with downward flow. They are installed with the bonnet turned sideways in steampipes to avoid the collection of water pockets.
Steel strainers are widely applied in different branches of industry and in utility sector pipelines for water, steam and other nonagressive media.
To order a strainer, you need to know the following characteristics: the material of body and straining element, mesh sizing (punched hole diameter), and the type of end connection.