Magnetic Strainers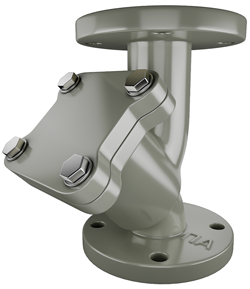 Flanged magnetic strainers are a subtype of pipeline strainers designed to retain solids in non-aggressive liquids. They are applied to pipelines carrying hot and cold water and other liquids.
The magnetic strainer consists of a cylinder-shaped body constructed of nonmagnetic material and a special magnetic screen assembly. Magnetic strainers help retain all solid particles larger in size than a mesh cell. The removal of the particles is a two-stage process.
1) First, the mesh screen collects large solids.
2) Second, the magnetic screen assembly attracts small ferromagnetic particles that the mesh cannot retain.
Magnetic strainers provide a high level of removal of foreign particles from flowing fluid. Split body design allows for regular cleaning, and magnetic screen assembly can be replaced when worn.
Strainers are designed with overall dimensions in accordance with GOST, ISO 5752-S1, BS 5152, DIN 3202-F1. Holes in the flanges are drilled according to the standards of GOST, ISO 7005-2, BS EN 1092, DIN 2501.