Flanged Strainers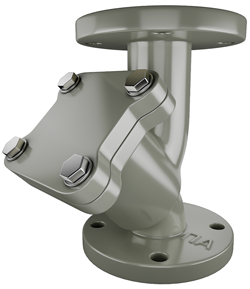 Flanged strainers are the most common type of strainer. They are widely used due to their easy installation and removal. Strainers with union connections are not so easily installed because a proper thread must be selected or cut. Welded strainers are characterized by their complicated removal which takes time. Flanged strainers are usually constructed at 50 mm in diameter and up. Union connections are the most typical for strainers with a diameter smaller than 50 mm.
Conventionally flanges for strainers are manufactured in accordance with GOST 12815-80 with several versions of sealing surfaces. Flanges with flat sealing surfaces are designed for nonagressive media (water, steam) and operating pressure to 16 kgf/cm². This is the most common type of flange applied to strainers.
Male-and-female and tongue-and-groove flanges are preferable where strainers are used in critical applications of the chemical industry or in the oil and gas industry in pipelines carrying aggressive media with pressures of 25–40 kgf/cm2. Strainers fitted with ring type joint flanges are used in environments of higher pressure and can withstand pressures of 63 kgf/cm² and higher.
Cast iron and bronze strainers are manufactured with flanges that have flat sealing surfaces. Steel strainers can be fitted with any version of flange in accordance with GOST 12815.
Counter flanges for strainers are produced in accordance with GOST 12821-80 or 12820-80. On request, housing flanges or counter flanges can be constructed in accordance with any standard (GOST, ASME or DIN) or based on drawings.