Strainers for Fire Protection Systems
Strainers for Fire Protection Systems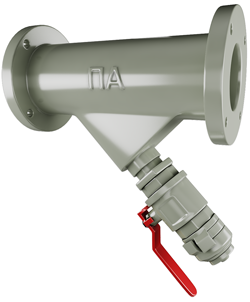 Strainers are applied in fire protection systems for filtration of water and foam solutions. They are distinguished from conventional strainers by the following characteristics:
- a larger volume of foreign particles is collected;
- technical service unit, which provides cleaning of the strainer without removal from the pipeline;
- pipe flushing unit;
- inserted flow straightener.
Strainers for fire protection systems have a specific design that prevents blockage of the orifice in case of clogging of the strainer. Strainers for fire protection systems are constructed of steel grades 1.0619+N, WCB, 1.4408, CF8M and AISI316 with flanged end connections. At the customer's request, a magnetic screen assembly can be inserted into the strainer. Hole size of the straining element is also determined by the customer.