Liquid Basket Strainers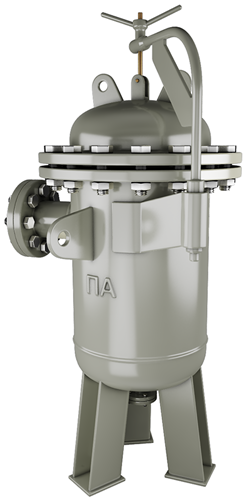 Liquid basket strainers are applied mostly in technological systems of plants and factories of the oil and gas industries. They are distinguished for their high flow capacity. This high flow capacity is directly related to the large size and heavy weight of liquid basket strainers. These strainers are designed with supports to provide stability. The strainer can be cleaned by means of opening the cover without the need for removal of the strainer itself. Liquid basket strainers are also fitted with a drain nipple.
Liquid basket strainers can be manufactured within a diameter range of 50 mm to 800 mm, and they are capable of withstanding pressure from 1.6 to 4 MPa. PromArm supplies liquid basket strainers with flanged or welded end connections. Flanges and weld ends are constructed in accordance with GOST 12815-80, DIN EN 1092-1, DIN EN 12627, ANSI B16.5.