Screen filters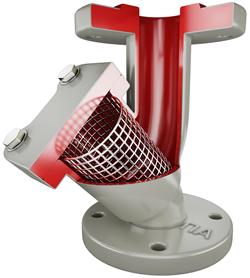 Pipeline strainers are used for filtration and removing debris from a flowing fluid. They are applied in either liquid or gaseous environments for various media such as water, oil, natural gas and others.
Many complex devices in piping, such as control valves and measuring instruments are sensitive to the purity of the media. Contamination by solid particles is not conducive to correct operation of such devices. A strainer is installed in the pipeline to protect those devices by retaining particles larger in size than the strainer cell.
The main part of a strainer is a mesh screen. Perforation size determines the level of solids removed. Strainers can be constructed with any hole diameter at the customer's request. Depending on the operating media, mesh can be made of different materials such as steel 20, 09Г2С, or 12Х18Н10Т. The straining element should be cleaned of accumulated solids at flow decay during the course of operation. For that purpose, the strainer has a split body that allows for easy access. As a rule, the straining element is replaceable and can be ordered separately.
There are strainers called "magnetic strainers" with a magnetic screen assembly to attract ferrous particles.
The strainer housing can be constructed of a wide variety of materials: cast iron, brass, carbon steel, stainless steel (grades GG25, GGG40, WCB, LLC, CF8, CF8M, AISI 304/316). The price of the strainer depends on the material employed.
Strainers can be connected to the pipeline by means of union, flanged and welded end connections. Strainers with smaller diameters designed for utility water supply pipelines are constructed of brass with a union end connection. Strainers meant for industrial plants are typically made of steel with flanged ends.
Strainers are divided into three groups determined by their housing design:
1) Y strainers,
2) cone strainers, and
3) tee type strainers.
There is a variety of housing designs and the form of design chosen determines the strainer's hydraulic resistance in many respects.
Strainers are suitable for horizontal lines or vertical lines with downward flow. The flow path direction must always match the direction of the arrow on the housing.