Bidirectional knife gate valves with polyurethane seat of PA 560 series
Bidirectional knife gate valves with polyurethane seat of PA 560 series
PA 560 series knife gate valves are specially designed for reliable operation in pipelines transporting highly abrasive working media with a high content of solid inclusions – sludge, pulp, heavily polluted water containing sand and stones. The gates can be used for abrasive liquid products in the chemical industry and in wastewater systems.

One-piece molded soft seat, installed inside the body, consisting of two halves, is made of polyurethane. This elastomer has a very high degree of resistance to abrasion, which allows using PA 560 series valves for a long-term period under the most severe operating conditions. Valves of this series can be used in such industries as:

– mining industry;

– systems for waste water transportation and treatment;

– power stations;

– heat power plants;

– chemical enterprises.
Manufacture and supply:
According to TU 3700-002-55604618-2013
Design:
Bidirectional knife gate valve with polyurethane seat
Nominal diameter
DN 50 – DN 1200
Working pressure
– DN 50-150 – 16 kgf/cm2
– DN 200-400 – 10 kgf/cm2
– DN 450-600 – 8 kgf/cm2
– DN 700-800 6 kgf/cm2
Actuator:
– handwheel DN 50-500,
– gearbox DN 50-1200,
– lever DN 50-300
– pneumatic actuator, electric actuator DN 50-800
Main process media:
Is intended for the use in mining industry, in lines for transportation of slurries of solid particles, for example, water containing mud, stones and pulp. In addition, the gate can be used for abrasive liquid products used in the chemical industry and in wastewater systems.
Connection:
– wafer between pipeline flanges;
(Connection dimensions acc. to GOST 33259-15, version B, mating flanges – acc. to GOST 33259-15, type 01 or 11, version B)
Process medium supply direction:
Any
Climatic version:
У, УХЛ4, ХЛ, Т, ТМ, ТВ acc. to GOST 15150-69
Actuator type's

PromArm LLC can supply any actuator types since the knife gate valve design is capable of complete interchangeability of components.
Manual
Automatic
Accessories
Handwheel with a rising stem
Electric actuator
Position indicator
Handwheel with a non-rising stem
Pneumatic actuator
Limit switches
Chainwheel
Hydraulic actuator
Positioner
Lever
Stem extension
Gearbox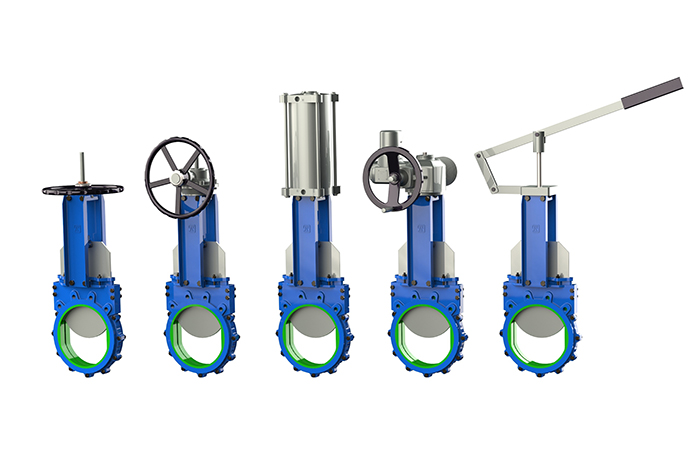 by request
Order
by request
Order
by request
Order
by request
Order
by request
Order
by request
Order
by request
Order
by request
Order
by request
Order
by request
Order
by request
Order
by request
Order