Steel Gate Valves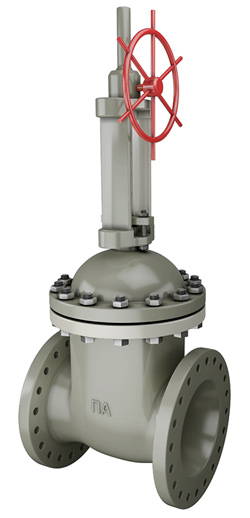 The main body parts of steel gate valves are made of steel including, but not limited to, grades of 20Л, 25Л, 20ГЛ, 12Х18Н10Т, 20Х5МЛ, WCB, LLC, A316, etc.
Carbon steel gate valves are the most common type (in steel grades of 20Л, 25Л, 35Л, A216WCB). In Russia, they are designated by letters and numbers: 30с41нж, 31с45нж, 30с64нж, 30с15нж, etc. Carbon steel gate valves are meant to be used in nonaggressive media such as water, vapor, oil, oil products and natural gas. Their operating environment temperature is from -40ºC to +40ºC, while their operating temperature is from -40ºC to +425ºC. Carbon steel valves are reasonably priced when compared to other steel gate valves.
Steel alloy gate valves are called "cold gate valves" (such types as 30лс41нж, 30лс76нж, 30лс541нж). Their capacity to work at low temperatures (below -60°С) is critical in the regions of the Far North. As a rule, cold-resistant valves are painted blue to distinguish them for their specific use.
Corrosive environment oriented gate valves are made of stainless steel (grades 12Х18Н10Т, 10Х17Н13М2Т, A316L, CF8, CF8M, etc.) The allowable operating temperature for them is from -60°С to +525°С. Such gate valves are used mostly in critical applications of the chemical industry. Stainless steel gate valves can be several times the price of carbon steel gate valves even though they may have the same characteristics.
Steel gate valves (as well as cast iron gate valves and many other types) are either hand operated (by means of a reduction gear) or electrically or pneumatically actuated. Steel gate valves are divided into flanged valves, with a union connection, welded valves and socket end gate valves according to their end construction state.
PromArm supplies steel gate valves produced by various manufacturers in strict accordance with the requirements of GOST, API, ANSI, DIN and other standards.