Pinch Valves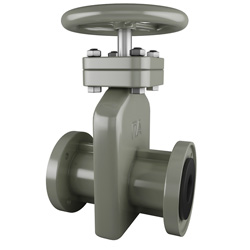 Pinch valves are a unique type of valve designed to regulate or throttle fluid flow. They are used for different kinds of media: chemically active, abrasive, pulp-like (acid, pulp, cement, sand, etc.)
In pinch valves the valve body contains no seat and its gate does not have any sealing surfaces. The medium flows through a flexible sleeve that is pinched to control the flow with the help of the valve stem.
Pinch valves are designed for flow control of various media. Their sleeves are molded of different sorts of rubber:
• petrol-resistant rubber;
• oil-resistant rubber;
• chemically-stable rubber.
PromArm offers our clients pinch valves with a body made of cast iron, steel, polymeric materials, and aluminum, which is the most common material used in pinch valves. We supply pinch valves from 40-300 mm in diameter and designed to withstand pressure up to 16 kgf/cm2. Our pinch valves can be operated manually, electrically or pneumatically. Our sales engineers will help you to make the best possible choice in accordance with your individual needs.