X-mas Tree Gate Valves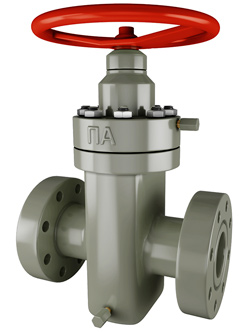 X-mas tree gate valves are meant for installation in gas well connections, oil and gas gathering and transportation pipelines, and high pressure pipelines.
PromArm supplies X-mas tree gate valves for casing heads with DN 50, 65, 80, 100 and 150 mm, designed to withstand pressures of 21, 35, 70 and 105 mPa.
Such gate valves are produced with flanged and threaded end connections and they are made of different grades of steel depending on the operating media characteristics. X-mas tree gate valves made of different materials have different levels of corrosion resistance to hydrogen sulfide (H2S) contained in handled media. Stainless steel gate valves allow for the concentration of hydrogen sulfide of more than 6%.
PromArm supplies X-mas tree gate valves with flanges, packing, and fastening devices manufactured in accordance with Russian standards and the requirements of API 6D.