Cast Iron Gate Valves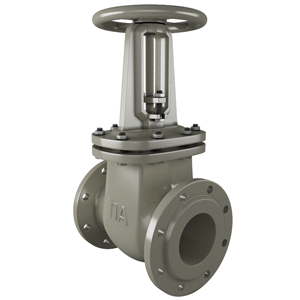 Cast iron gate valves are a type of gate valve, the basic parts of which are made of cast iron. Various kinds of cast iron may be used for their manufacture such as gray, malleable, high-strength with globular graphite, GG25, GGG40.
In view of the fact that the mechanical properties of cast iron are worse than those of steel, cast iron gate valves have limits in their use. They are not recommended to be used outdoors at temperatures below -20 °C or installed in pipelines with pressure of more than 16 kgf/cm2 and operating temperature more than +225oC.
The leak-secure tightness of cast iron gate valves typically conforms to Class C or D of GOST 9544-2005.
Nevertheless, cast iron gate valves have the following advantages: relatively low cost, simple design and high maintainability. As a result, they are widely used. Mostly they are applied in the housing and utility sector in cold and hot water supply pipes, natural gas and sewage pipelines.
There are many types of cast iron gate valves: wedge, parallel slide, sliding, resilient seated, non-rising stem gate valves, etc. from 50 to 2000 mm in diameter.
Cast iron resilient seated gate valves are produced by domestic and foreign manufacturers. HAWLE, AVK, VAG stand out as the main producers. They contain EPDM sealing providing A-class gate tightness. Moreover, the valve body is covered with an epoxy coating that makes them suitable for underground installation. However, cast iron resilient seated gate valves have a much higher cost than conventional gate valves.
Cast iron gate valves are either operated manually (by means of a wheel or reduction gear) or by electric, hydraulic or pneumatic actuators (the two latter are used in rare cases).
Due to technical problems related to cast iron welding, the only possible variants of end connection for cast iron valves are flange joint or a lug wafer design.