Reducers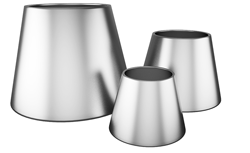 Reducers are pipefittings used to connect two pipes of a different diameter, allowing for a change in pipe size in your system.
Reducers are divided into two groups: concentric and eccentric. Concentric reducers are used to connect two pipes along the centre line, and eccentric reducers connect two pipes along the bottom generating line.
Both types of reducers can be installed in pipelines carrying different media. There are reducers designed specifically for water, steam, natural gas, oil, oil products, acids, alkali, aggressive and nonagressive media. As well as other pipefittings, reducers can be applied in the pipelines controlled or uncontrolled by supervisory authorities.
Reducers are manufactured in two versions. The 1st version is constructed in accordance with the regulations of ISO 3419 (secondary fabrication and steel grades application in accordance with ISO 2604/2 and ISO 2604/4). The 2nd version is produced according to regulations and specifications approved in Russia.
There are regulations governing the production of reducers and the two main standards are:
1) GOST 13780-2001 – General specifications for seamless welded pipeline fittings constructed of carbon and low alloy steel.
2) GOST 17378-2001 – Standards specifically related to construction of reducers for seamless welded pipeline fittings constructed of carbon and low alloy steel.
In accordance with these standards, reducers are designed to withstand pressures up to 16.0 MPa. Reducers for higher pressure and various other design requirements are manufactured according to other GOST or technical standards.
Reducers are constructed of various kinds of carbon, alloy and stainless steel: 10, 20, 09Г2C, etc.
Flat steel and pipes can serve as semi-finished materials to be used in the manufacture of reducers. Reducers constructed of flat steel are approved for pipelines with low operating pressure (up to 25 kgf/cm2). In such conditions, it is more economical to use welded reducers as they are less costly than seamless reducers. Because reducers are used under pressurized conditions, the weld quality must be given special consideration in their manufacture.
Machined and pressed reducers are manufactured for high-pressure pipelines (for example, PN 32.0 MPa). Cast iron flanged reducers are installed in rare cases (in low-pressure pipes carrying nonagressive media).
PromArm supplies reducers manufactured in accordance with the following standards:
1) DIN 2616-1,
2) DIN 2616-2 (steel C22.8, 15Mo3, St35.8 I, St45.8 I, etc.),
3) EN 10253-1,
4) EN 10253-2 (steel P355NL, L290/360, S355/23, etc.) types A and B,
5) ANSI B169.