Pipe Elbows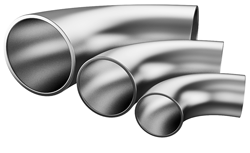 A pipe elbow is a pipefitting used to change the direction of the pipe at the required angle. Pipe elbows are widely applied in various branches of industry, such as the chemical, oil refining, metal and engineering industries as well as the housing and utilities sector.
Pipe elbows are sometimes made of cast iron and plastic, but generally speaking, pipe elbows are most often made of steel. There are pipe elbows made of carbon steel and low alloy steel that are used in general purpose lines. High alloy steel is preferable for critical applications in the oil refining and chemical industries when demands and operating requirements of the pipes are raised. Elbows made of high alloy steel are corrosion-resistant. Steel elbows can be used at operating temperatures from -70°C to +450°C.
Today pipe elbows are produced in various designs such as bent, forged and welded, welded segmented and short radius seamless elbows.
Welded elbows are produced by means of welding a number of sectors that form a whole fitting. The angle of turn of such elbows varies from 3° to 90°. Manufacturing processes and characteristics of welded segmented elbows must conform to the requirements of industrial standards 34 10.752-97 and 36-21-77.
30°, 45°, 60°, 90° short radius seamless pipe elbows and return bends are manufactured in accordance with GOST 30753-2001 and GOST 17375-2001. Such pipe elbows are constructed by means of a process called "hot drawing" in which metal is heated in a special chamber built to form an elbow of a certain angle.
Bent pipe elbows are divided into cold-formed and induction bent. They are constructed in accordance with GOST 22793-83 and Technical Specification 102-488-95. Bent elbows are widely applied in systems for the housing and utilities sectors, the chemical industry and oil and gas pipelines.
Short radius forged and welded pipe elbows from 219 to 1,420 mm in diameter are mostly produced for main oil and gas pipelines. They are designed to withstand pressure up to 100 kgf/cm2. Forged and welded elbows are constructed of two halves forged separately and then welded together. Forged and welded pipe elbows are manufactured in accordance with Technical Specification 102-488-95.
PromArm supplies pipe elbows customized and constructed based on customers' drawings. In addition, our company supplies elbows produced in accordance with the standards DIN 2605-1, DIN 2605-2, EN 10253-1 type A, type B, ANSI B16.9, ANSI B16.28.