Multiturn Electric Actuators for Gate Valves
Multiturn Electric Actuators for Gate Valves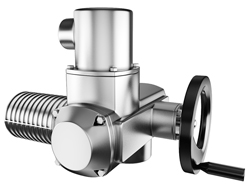 Gate valves can be operated either manually or electrically by means of multi-turn electric actuators. The application of electric actuators to gate valves makes technical processes automatic and enhances the reliability and quality of these processes. There are many different versions of electric actuators that perform a variety of functions:
- remote or manual opening and closing of the gate valve;
- indication of the rate of opening and closing of the gate valve by means of remote or direct indicator;
- automatic disconnection in case of reaching maximum or extreme conditions.
The type of electric actuator applied depends on the requirements of the technological process and technical characteristics of the gate valve: size of the mounting face, maximum torque, number of turns required to open or close the valve etc.
Electric actuators for gate valves are manufactured for different climatic conditions: from tropical (to +60°С) to cold (to -70°С) climates. The following design versions can be produced:
- general purpose industrial version;
- explosion-proof version;
- actuators for nuclear power stations.