Electrically Actuated Valves
Electrically Actuated Valves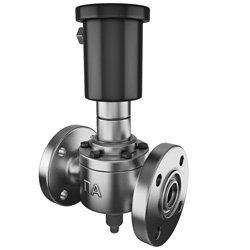 Electrically actuated valves can be divided into two main types: direct-acting and indirect-acting valves. Direct-acting solenoid valves provide opening and closing functions of the valve by means of movement of the valve core when voltage is supplied to the coil. Indirect acting valves operate as follows: voltage supply opens a pilot valve, and the primary valve is opened by system pressure. The energy of the handled media is used in indirect acting valves for opening and closing. As a result, they have a wider range of nominal diameters, operating pressures and relatively low-power solenoids. However, the majority of indirect acting valves require differential pressure on the valve for effective operation.
Direct acting solenoid valves are preferable because they provide greater reliability in operation. They are less demanding of air purity, ambient operating temperature and they have a longer lifetime. The major advantage of electrically actuated valves is their fast response time.
One more point that is important is that it is possible to integrate electrically actuated industrial valves into an existing valve control system or apply them in the construction of a new system. For that purpose, PromArm supplies electric actuators with control units that have a digital interface such as Modbus, Fieldbus, Profibus, DeviceNet, FieldbusFoundation.
Choose element
from list or enter keyword
| | | |
| --- | --- | --- |
| DN100, PN16 | DN100, PN16 | DN50, PN16 |
| DN50, PN16 | DN50, PN16 | DN80, PN16 |
| DN100, PN16 | DN50, PN16 | DN50, PN16 |
| DN80, PN16 | DN100, PN16 | DN80, PN16 |
| DN100, PN16 | DN50, PN16 | DN80, PN10 |
| DN50, PN16 | DN250, PN16 | DN25, PN16 |
| DN100, PN16 | DN50, PN16 | DN300, PN40 |
| DN65, PN40 | DN50, PN10 | DN40, PN16 |
| DN6, PN40 | DN80, PN40 | DN10, PN16 |
| DN300, PN16 | DN50, PN16 | DN50, PN16 |
| DN100, PN40 | DN80, PN40 | DN100, PN100 |
| DN65, PN10 | DN50, PN16 | DN10, PN40 |
| DN100, PN40 | DN15, PN16 | DN25, PN16 |
| DN80, PN16 | DN400, PN25 | DN100, PN47 |
| DN65, PN16 | DN80, PN16 | DN150, PN40 |
| DN10, PN10 | DN100, PN40 | DN50, PN40 |
| DN150, PN100 | DN80, PN10 | DN65, PN16 |