Steel Check Valves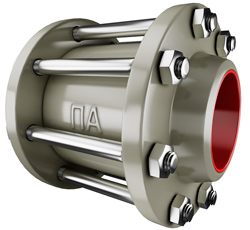 Steel check valves are designed to protect equipment from reversed flow. Their critical part is a closure member, which can be in the form of a piston, plate or disk. Lift check valves contain a spool that moves up and down parallel to the pipe axis and is activated by the flowing material in the pipeline. Swing check valves comprise a disk placed perpendicular to the piping run.
Steel is the most common material used for the manufacture of swing and lift check valves. Different steel grades are employed for their construction: carbon steel (grades 20, 20Л, WCB), alloy steel (grades 09Г2С, 20ГЛ, LLC) and stainless steel (grades 12Х18Н10Т, 08Х18Н10Т, 12ХМФ, 10Х17Н13М2Т, AISI 304/316, CF8/CF8M).
Steel check valves are applied in the power industry, the nuclear industry, the housing and utility sector and the oil and gas and chemical industries.