Lift Check Valves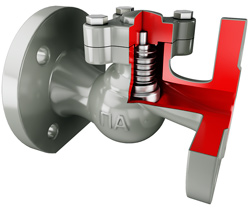 Lift check valves are a subtype of check valves designed to prevent the reversal of flow in a piping system. The valve in a lift check valve is a disk that moves up and down to prevent or allow the flow of the media. Such valves are installed in the pipeline so that the direction of flow matches the direction of the arrow on the body of the valve. The flow that lifts the disk must always enter from below the seating.
Lift check valves are suitable for installation in horizontal or vertical lines. They are designed in diameters of up to 200 mm and are capable of withstanding pressure up to 160 kgf/cm2. Depending on the operating parameters (media, operating and environment temperatures), lift check valves are manufactured of different materials: steel, cast iron, stainless steel, nonmetal, brass or bronze. The end connections for lift valves are produced with flanged or union connections, and rarely with welded ends except in applications of the electric power industry.
According to operating principles, lift check valves are divided into spring-loaded and spring-less. These types of valves are automatic, because they do not demand manned operation or any type of actuator. They are activated by the backflow of the operating media.
Despite their simple design and functions performed, lift check valves are an essential part of any system that includes pump units. They provide safety for equipment and personnel involved in maintenance of technological processes. Lift check valves supplied by PromArm are consistent with all quality and safety requirements of Russian and international standards.