Nonmetallic Check Valves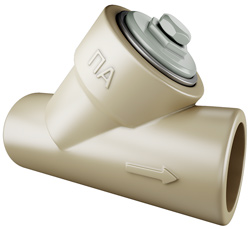 As well as other types of check valves, nonmetallic check valves are designed to prevent the reversal of flow in the piping system. They are distinguished for use in highly corrosive media such as acid and salt solutions, alkali liquors, etc.
For such conditions valve bodies are mostly constructed of PTFE and polypropylene (PFA, PP PP-H, PVDF, PVC-U). Nonmetallic check valves are characterized by their simple design, long service life, high leak-secure tightness and relatively small overall dimensions.
by request
Order
(All: 1)