Check Valves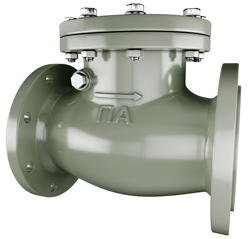 Check valves are a type of industrial valve designed to permit the flow of liquid or gas in one direction and prevent flow in the reverse direction. When the flow is reversed, the valve is automatically closed against its seat by the back pressure of the media. Several subtypes of check valves are distinguished and each of them will be described below.
Butterfly check valves contain a disk-shaped gate that turns around a horizontal axis placed higher than the disk center. They are produced in diameters from 40 to 1,400 mm and are capable of withstanding pressure to 320 kgf/cm2. Butterfly check valves can be constructed of cast iron, carbon, alloy and stainless steel. The construction material is chosen according to customer's demands. On request, PromArm supplies check valves constructed of the following materials: GG25, GGG40, WCB, LLC, CF8M, A351, etc.
If the butterfly check valve has a small diameter (up to 300 mm), its disk is freely suspended in the horizontal axis and it is activated by the fluid flow. Larger diameter valves designed to operate high pressure, should be fitted with a weight on the disk. Some butterfly check valves include dashpots installed on the shaft to provide a cushioning effect during operation and to prevent pounding of the disk against the body.
Lift check valves include a plug that moves up and down perpendicular to the fluid flow. The plug is raised by the pressure of the upward flow. When the flow stops or reverses, the plug is forced onto the seat by its own weight or the pressure of the media. Lift check valves are produced with small bore (up to 200 mm in diameter).
In axial check valves, the axis of the disk coincides with that of the piping run. The disk moves back and forth parallel to the piping run. The streamlined form of the disk minimizes flow resistance. A spring-assisted design ensures closing without backflow pressure. Advantages of this design include:
- low resistance coefficient;
- constant flow velocity;
- quiet operation;
- shock-free and vibration-free operation;
- suitability for vertical lines.
Axial check valves are manufactured in diameters up to 1,400 mm and they are capable of withstanding pressure to 250 kgf/cm2. They are applied in main oil and gas pipelines.