Steel Butterfly Valves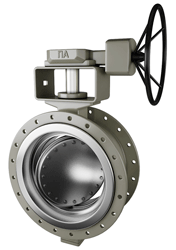 A butterfly valve is a type of industrial valve meant for use in hot and cold water supply systems, air ventilation and conditioning systems. With restrictions depending on the materials used in their construction, butterfly valves can be used for drinking water, service water and seawater, foodstuff and dry goods, gases, including natural gas, oil and oil products, aggressive and abrasive media. Butterfly valves can also be used for a wide range of pressures and temperatures.
A steel butterfly valve is a subtype of butterfly valves in which the body is made of steel. Depending on operating conditions, different grades of steel can be used — alloy steel, carbon steel or stainless steel.
Unlike cast iron valves, steel butterfly valves are meant for tougher operating conditions with a minimum ambient temperature of -60°С, aggressive environments, operating temperature of up to +700°С. In addition, steel butterfly valves can be used in high pressure conditions (up to 100 kgf/cm2). Steel butterfly valves are fitted with a handle or reduction gear, or an electric or pneumatic actuator.
PromArm offers steel butterfly valves solidly constructed of different grades of steel: A216WCB, AISI 316L, CF8, CF8M, etc. either available in stock or to order. Depending on the operating media, various sealing materials are used such as EPDM, PTFE, Viton, NBR or black lead.
Choose element
from list or enter keyword
DN150, PN16

Disk material

: CF8 stainless steel

DN100, PN16

Disk material

: CF8 stainless steel

DN80, PN16

Disk material

: CF8 stainless steel

DN200, PN16

Disk material

: CF8 stainless steel

DN50, PN16

Disk material

: CF8 stainless steel

DN300, PN16

Disk material

: CF8 stainless steel

DN250, PN16

Disk material

: CF8 stainless steel

DN100, PN16

Disk material

: CF8 stainless steel

DN125, PN16

Disk material

: CF8 stainless steel

DN100, PN16

Disk material

: CF8 stainless steel

DN400, PN16

Disk material

: CF8 stainless steel

DN200, PN16

Seat material

: ss304+graphite

DN200, PN16

Disk material

: CF8 stainless steel

DN80, PN16

Disk material

: CF8 stainless steel

DN200, PN16

Disk material

: CF8 stainless steel

DN500, PN16

Disk material

: CF8 stainless steel

DN50, PN16

Disk material

: CF8 stainless steel

DN50, PN16

Disk material

: CF8 stainless steel

DN250, PN16

Disk material

: CF8 stainless steel

DN300, PN16

Seat material

: ss304+graphite

DN150, PN16

Disk material

: CF8 stainless steel

DN500, PN25

Seat material

: ss304+graphite

DN100, PN10

Disk material

: CF8 stainless steel

DN65, PN16

Disk material

: CF8 stainless steel

DN500, PN16

Seat material

: ss304+graphite

DN600, PN16

Seat material

: ss304+graphite

DN250, PN16

Disk material

: CF8 stainless steel

DN250, PN16

Seat material

: ss304+graphite

DN40, PN16

Disk material

: CF8 stainless steel

DN500, PN16

DN150, PN16

Seat material

: ss304+graphite

DN600, PN16

Disk material

: CF8 stainless steel

DN500, PN25

Seat material

: ss304+graphite

DN80, PN16

Disk material

: CF8 stainless steel

DN800, PN16

Seat material

: ss304+graphite

DN300, PN16

Disk material

: CF8 stainless steel

DN100, PN16

Seat material

: ss304+graphite

DN300, PN16

Disk material

: CF8 stainless steel

DN300, PN25

Seat material

: ss304+graphite

DN300, PN10

Disk material

: CF8 stainless steel

DN150, PN25

Seat material

: ss304+graphite

DN600, PN10

Disk material

: CF8 stainless steel

DN100, PN16

Seat material

: ss304+graphite

DN80, PN10

Disk material

: CF8 stainless steel

DN100, PN40

Seat material

: ss304+graphite

DN800, PN10

DN80, PN40

Seat material

: ss304+graphite

DN400, PN16

Disk material

: CF8 stainless steel

DN1000, PN16

Seat material

: ss304+graphite

DN150, PN10

Disk material

: CF8 stainless steel

DN600, PN25

Seat material

: ss304+graphite