Triple Offset Butterfly Valves
Triple Offset Butterfly Valves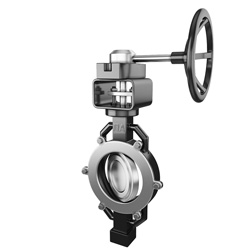 Triple offset butterfly valve is an innovative product in the valve industry. Its construction became possible due to the latest achievements in the design, construction and metal treatment technologies.
This type of butterfly valves differs fundamentally from the other types due to three separate offsets designed into the valve. Two of the offsets apply to the location of the shaft with respect to the center line of the bore and the center line of the disc/seat sealing surfaces.
The third offset in the design is the axis of the seat cone angle that is inclined from the centre line of the valve bore to minimize rubbing of the seat/seal contact surfaces during operation and to achieve compressive sealing around the entire seat.
The basic function of triple offset butterfly valves is to eliminate friction between disc and seat during closing and opening and therefore extend the life of the sealing elements and the valve altogether.
Except longer in-service life, the triple offset design provides the following benefits:
- superior tightness;
- inclined conic axis allows to reduce the pressure loss and to increase the flow capacity;
- applicability of different materials for the construction of the valve provides its suitability for operating media with temperatures of +196 to +700°С;
- operating pressure up to 100 kgf/cm2;
- bi-directional shutoff;
- absence of seal distortion;
- fire-safe design for highly inflammable media;
- butterfly valves can be used as control devices.
There are 4 groups of triple offset butterfly valves determined by their end connection:
- wafer type with smooth holes;
- wafer type with threaded holes;
- flanged;
- welded.
Triple offset butterfly valves are available in a wide range of materials (carbon and stainless steel, graphite seal, STELLITE welding on the disc), and they can be used in various operating conditions, where high degree of safety, no-failure operation and long service life are required.
You can select the valves and their technical characteristics using search, selection by DN/PN or general selection.
To purchase this product or for technical advice, please contact our sales department by phone / fax +7 (8412) 35-07-97 or by e-mail: info@promarm.ru