Double offset butterfly valves



Wafer type

PA400 series

Flanged type

PA700 series



Butterfly valves can be with a symmetrical disk or with offset. Butterfly valves with offset are among the most popular types of shut-off valves, which are the most sealed and durable devices. There are two types of butterfly valves with offset: double and triple.
Butterfly valves with double offset are designed to operate in extreme conditions under the influence of an aggressive working medium. They are more reliable and can work at temperatures up to +500°C with and pressure 10 MPa. The advantage is minimal friction in the points of contact between the disk and the seat. This increases the service life of the equipment and reduces the number of repairs.
Design features
Butterfly valves with double offset consist of a disc displaced relative to the axis of the body seat and the pipeline itself. Both components have the shape of cone. Upon rotation double eccentricity allows the disc to come out of contact with the seat when opening/closing the shutter. The offset rod provides a uniform load on the equipment, without overloading individual sections and without requiring significant effort and time during operation.
This type of valves has the following advantages:
closes/opens effortlessly;
extended service life and operation without major repairs or replacement of equipment;
increases the tightness of the connecting surfaces, preventing leakage of the working medium;
increases productivity with a large number of butterfly valve opening/closing cycles;
used in pipelines to block the flow of the working medium in both directions.
Due to the design features, two-eccentric disc valves are used as shut-off valves in large-diameter pipelines. In particular, for the transportation of oil, gas, hot water, steam.
Two-eccentric butterfly valves are used in the following areas:
oil and gas industry;
chemical and pharmaceutical companies;
housing and utility services;
mechanical engineering;
shipbuilding;
food industry.
Types of gate connections
Butterfly valves are available with flanged (PA700 series) and wafer (PA400 series) connection types. Both options are common in the field of pipeline laying. The flange connection is used for the arrangement of units to which additional equipment can be attached later. The wafer connection facilitates installation in the limited conditions of pipeline laying and makes it possible to dismantle the necessary unit for repair or replacement.
Sealing of butterfly valves with double offset
The seal is manufactured in two versions:
"Soft" or fluoroplastic is used with alkalis and acids. The material is resistant to sunlight, mold, sea water, high temperatures. The fluoroplast begins to melt at t +327°C.
"Metal-on-metal" provides uninterrupted operation at high temperatures and pressure for the transportation of aggressive, fire-hazardous, toxic and other aggressive media.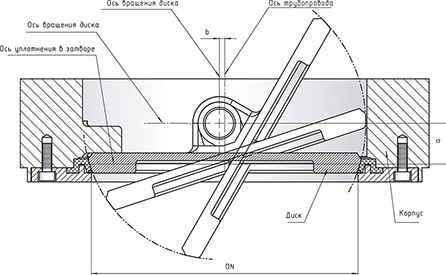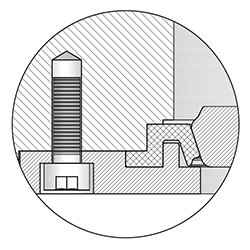 Soft PTFE sealing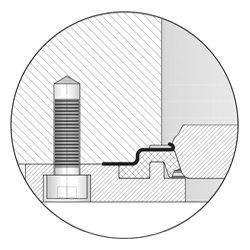 Fire-proof PTFE+metal seal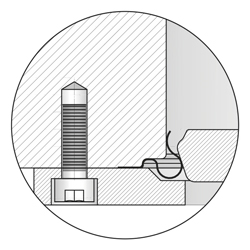 Metal-on-metal seal