Gas Butterfly Valves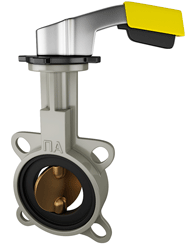 Gas butterfly valves are intended to be used in transportation and storage systems of different liquids and gases, including household and industrial gas pipelines carrying natural gas. They are also successfully applied as locking devices in gas distributing plants.
Gas butterfly valve design has a number of technological characteristics and advantages over other types of industrial valves. The butterfly valve consists of a body (either all-welded or split), a disk fixed on a shaft (or two half-shafts) and a seat ring (soft or sometimes reinforced sealing made of different chemical compositions, mostly rubber-based). Gas butterfly valves contain seat rings made of nitrile (NBR) or Viton. Viton is a gas-proof material very resistant to hydrocarbons and high temperatures. Metal-to-metal seat rings are applied in very high temperature conditions. The valve axis and disk are perpendicular to the piping run. Gas butterfly valves are operated by a handle or a worm gear.
Butterfly valves have a small face-to-face dimension, are light in weight and have a high level of leak-secure tightness, which is essential for gaseous operating media. Butterfly valves are divided into flanged and wafer type according to the end connection. Gas butterfly valves also come with a welded end construction. Valve bodies are cast or die forged of cast iron and various grades of steel. After assembly, the valves are subjected to strength and leak tests. In addition, gas valves are air-tested.
Pneumatic piston-type actuators (single acting or double-acting) or electric actuators are used for automatic control of butterfly valves. An explosion-proof version of an actuator is applied to butterfly valves installed in gas pipelines.
Gas transportation systems are the most critical objects of every industrial plant and that is why our company supplies gas butterfly valves of the highest quality produced by reliable Russian and foreign manufacturers.