Welded Ball Valves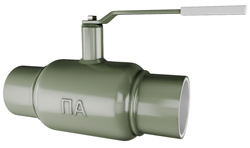 PromArm supplies a wide choice of welded ball valves made from a variety of different grades of steel (carbon steel, alloy steel, stainless steel and molybdenum-containing steel). Our welded ball valves are meant to be used in pipe diameters from 6 to 1,400 mm and can withstand pressures from 0 to 400 kgf/cm2.
Welded ball valves are installed in water mains and pipelines for heat supply systems and main gas pipelines.
Ball valves with welded end connections are mostly installed in enclosed spaces, (e.g. underground pipelines) where their removal is not possible. In addition, because of their strength and durability, welded ball valves are appropriate where a high level of leak tightness and reliability are required.
As with other types of valves, welded ball valves can be hand-operated (by means of a handle or reduction gear), electrically operated or pneumatically or hydraulically actuated.
For convenient connection to the pipeline body, a connector's edge is custom made and cut at the manufacturer's plant to join a pipe of a specific diameter and wall thickness.
Like many other ball valves, welded ball valves can have a single body or a split body, and a full bore or reduced bore.
PromArm supplies welded ball valves produced in accordance with the requirements of Russian standards (including those of Gazprom and Transneft) as well as DIN, ISO, and API requirements. Our company supplies different climatic modifications of ball valves: for tropical (up to +60ºC), temperate climate and cold weather climates (to -60ºC).