Steel Ball Valves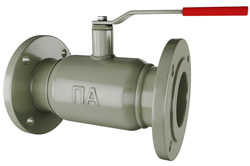 Depending on the operating conditions in which they are used (operating medium, temperature, pressure etc.), steel ball valves are made of different steel grades: carbon, alloy, stainless steel.
Carbon steel ball valves are the most widespread. They are intended for non-aggressive operating media: water, steam, oil, oil products, and natural gas. They work at ambient operating temperatures from -40°С up to +40°С.
Alloy steel ball valves are called 'cold ball valves'. They can operate at low temperatures (below -60°С). This is important in the regions of the Far North. Stainless steel ball valves are designed for aggressive and corrosive operating media. They are applied mostly in critical applications of the chemical industry.
Steel ball valves are operated manually by a handle, or electrically, or by pneumatic actuator.
With a customer's request, PromArm either supplies steel ball valves separately or completed with welding nipples, nuts and packing.