Full Port Ball Valves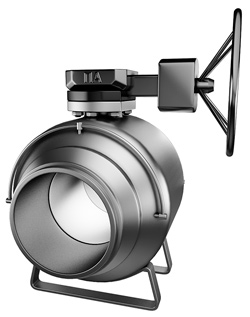 A ball (or a plug) is one of the main parts of a ball valve. Valves are divided into full bore (or full port) and reduced bore valves according to the ball design. The full port pattern ball valve has a ball with a bore equal to the inside diameter of the pipe it is fitted to or with the closest possible diameter (the so called "effective diameter").
Thus, a full port ball valve with DN 200 mm has a ball bore 200 mm in diameter. Consequently, these kinds of valves are typically designated as DN 200 mm, DN 250 mm, etc.
Reduced bore valves have a bore one size smaller. For example, a ball valve with DN 65 mm contains a hole through the ball that is 50 mm in diameter, and ball valves with DN 80 mm have a hole 65 mm in diameter (according to nominal diameter, factory specifications allow ball restrictions of 25% of their nominal diameter). The designation for this kind of ball valve differs from full port valves, e.g. DN 200/150 mm, 150/125 mm, etc.
Full bore ball valves are the most frequently used. They have the following peculiarities and advantages:
- higher flow capacity in comparison with reduced bore ball valves;
- workability in pipeline systems with cleaning or screening devices.
Both full bore and reduced bore ball valves made of different grades of steel are available and in stock in our warehouses, or you can order them according to your request.