Ball Valves for Underground Installations
Ball Valves for Underground Installations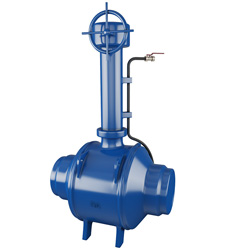 Ball valves are divided into two types according to installation method:
1. underground ball valves and
2. aboveground ball valves.
Utility networks and storage facilities such as main oil pipelines, oil and gas storage, wells etc. are often installed underground. Industrial valves have been specifically designed for this purpose and ball valves are especially suitable to this use. Underground ball valves are small in size and lightweight. The valve body design protects the inner parts from coming in contact with the ground. An all-welded body design is used for this purpose and this also minimizes leakage from the valve body.
The basic type of end connection for underground valves is a welded joint. In addition, a polymeric coating — the so-called anti-corrosive or heavy protective coating — is used to protect valves from mechanical damage and ground exposure. There are a variety of valve body coatings available, FRUSIS and Protegol to name just two.
Stem extensions connect the ball with the aboveground actuator and are designed for easy operation of underground valves. Stem extensions can be custom made to a customer's requirements. The height of a stem extension is adjustable and can be of any height.
PromArm supplies ball valves for underground installations for water, natural gas and other operating media. We offer manually operated (by a handle or reduction gear) ball valves as well as ball valves actuated by electric or pneumatic means or gas-over-oil operated (also with explosion-proof design).