Nonferrous Ball Valves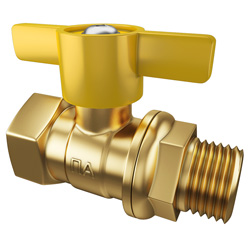 Nonferrous alloys ball valves from 10–100 mm in diameter are made of brass and bronze and designed to withstand pressures from 16–40 kgf/cm2. These kinds of ball valves are widely applied in housing and communal service systems for gas, heating, hot and cold water pipe-fittings.
Nonferrous alloy ball valves are produced with union, compression or composite end connection. The main advantages of this type of ball valves are their low price, small size, easy operation, high reliability and leak tightness over their temperature range up to 150°С.