Stainless Steel Ball Valves
Stainless Steel Ball Valves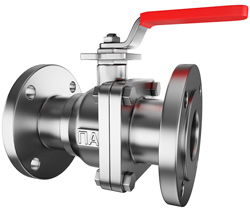 PromArm supplies stainless steel ball valves with DN from 6 to 300 mm and designed to withstand pressure up to 25 mPa.
The main advantage of our Stainless Steel Ball Valves is compatibility with different operating media because both the valve body and the ball are made of stainless steel. Moreover, stainless steel ball valves can work in cold environment temperatures to -60ºC.
Stainless steel is highly corrosive resistant and can be used with many substances. It is clear to see why stainless steel ball valves are applied in various branches of industry such as gas and oil refining, chemical, food, energy industry, etc.
Stainless steel ball valves are made of steel grades AISI 316, 316L, AISI 304, 1.4408, CF8, CF8M and more.
Ball valves are produced with flanged, union, welded, compression, and wafer type end connections. They are operated manually by a reduction gear or an electric or pneumatic actuator.
The only limitation on the use of stainless steel ball valves is their limited temperature range. The maximum allowable working temperature for standard stainless steel ball valves is +180ºC (+200ºC). The reason for this limited use is the PTFE or polyurethane plug seal. At the present time, metal-to-metal seals allow for the installation of steel ball valves in pipelines with higher temperatures. PromArm supplies stainless steel ball valves with both split and all-welded valve bodies.