Flanged Ball Valves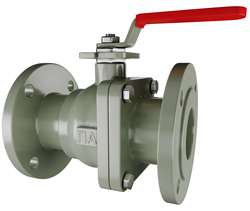 Flanged ball valves are a subtype of industrial valves, in which a rotating ball is used as a blocking or controlling element. It is connected to the pipeline by means of counter flanges.
Depending on operating conditions, flanged ball valves can be made of carbon, alloy or stainless steel, cast iron, nonferrous alloys, and nonmetals.
Ball valves are produced with a diameter from 15 to 1400 mm. According to materials employed, they can be used in environment temperatures from -60°С to +80°С and working temperatures from -60°С to +450°С. They can withstand pressure from 1 to 700 kgf/cm2.
A seat seal provides reliable leak tightness of the valve. The seal is made of polymeric materials for working temperatures up to +200°С. For higher temperatures, ball valves with a metal-to-metal seal are produced.
Flanged ball valves are divided into full bore and reduced bore ball valves according to the valve bore design. They can also be grouped according to the valve body design of either single body or split body valves.
Many manufacturers produce ball valves of the same face-to-face dimension as that of gate valves with similar characteristics. That fact allows users to minimize expenses upon replacement of worn out gate valves by the use of less expensive and easier operated ball valves.
Flanged ball valves are operated by means of a handle, electric, pneumatic or hydraulic operator.
PromArm supplies flanged ball valves for water, oil, oil products, gas and chemical compositions. Ball valves are manufactured according to Russian quality standards and meet the requirements of American and European standards ANSI, API, DIN and JIS.