Ball Valves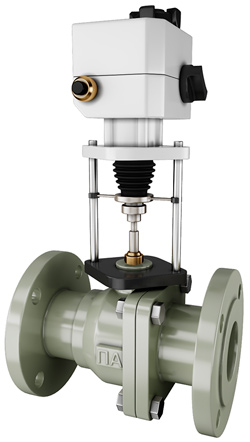 Ball valves provide the following advantages:
- high level of leak-secure tightness;
- lower cost in comparison with valves and gate valves;
- applicability for almost all operating media (except abrasive media);
- producibility with any type of end connection (union, flanged, welded, wafer type, threaded connection);
- ball valves can be supplied for any type of actuator (handwheel, reduction gear, electric, pneumatic and hydraulic actuators);
- valve body can be made of different materials (steel, brass, bronze, cast iron, plastic);
- lesser size when compared to gate valves, which results in easier installation and replacement;
- high speed open/close of shut-off device;
- almost total absence of hydraulic loss;
- multiport valve body design (In addition to conventional two-way ball valves, three- and four-way ball valves can be produced);
- variety of face-to-face dimensions;
- wide diameter and pressure range (DN from 6 to 1400 mm, PN up to 700 kgf/cm2);
- high level of repairability of split body ball valves.
Depending on operating parameters, ball valves may gain the advantages of the following design features:
- reduced pattern of shut-off device (the ball is reduced by one size);
- control valves with linear or equal percentage characteristics;
- metal-to-metal sealing allows using ball valves with abrasive and high temperature (up to +350ºC) media;
- trunnion mounted ball valve design;
- bleeder to control leakage and leak tightness;
- ball valves for underground and underwater installation;
- anti-corrosive valve body coating protection when the valve is installed in aggressive media;
- stem extension in case of underground, underwater or well installation;
- seismic resistant design and the double seal system, provide the fire safe function and makes ball valve operation safer and extends their service period and repair intervals.
PromArm offers a wide range of ball valves with DN from 6 to 1400 mm, PN up to 70 mPa of various types and designs produced in accordance with Russian (GOST) and foreign (API, ANSI, DIN, JIS) standards either available in stock or to order.