About us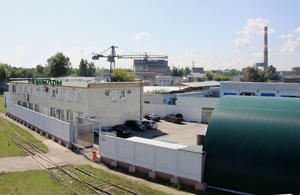 The company "Promarm" was founded in 2001. The main task was to become a major supplier of equipment for power, oil and gas and chemical industries. Further, because the team was mostly specialists in valves, the company choose specialization in the market of industrial valves.
In a short time the company entered the foreign markets. The products of LLC "Promarm" are exported, besides to CIS countries (Kazakhstan, Azerbaijan, Turkmenistan, Kyrgyzstan, Armenia), to Croatia, Bulgaria, China, Korea and the Baltic republics.
Our clients are: Verkhnechonskneftegaz, "RN-Nakhodkanefteprodukt", "RN-Krasnodarneftegaz", "PH-Samaraneftegaz", "Noyabrskgazodobycha", "Yamalstroigazdobycha", "Turgay petroleum", "Arktikugol", "Tatneft", "TAIF-NK", "Mosstrojjtransgaz", "Pechoraneftegaz","AES Ekibastuz".
The major activity of the company "Promarm" - complex supplies of industrial valves and equipment for heating, water, oil and gas, transporting and recycling industries.
Since the main consumer of our companies products is oil and gas sector, which has high requirements to safety and quality, "Promarm" focuses only on production of the highest quality.
Today we offer a full range of industrial pipeline valves produced in Russia and CIS (it is about 300 manufactures), as well as the products of foreign factories. In addition, we provide assembly all types of valves with electric actuators, flanges, fittings, etc., but also spare parts for the offered equipment.
Geography of supplies